Welcome to the Your Passions Microdegree
How can you align your life to your passions? With this microdegree you will gain clarity about how to align your life to your most important passions. Learn how to redesign how you learn, live, earn and give in a way that sparks your passions. Find out how to connect your team and customers to their passions in a way that creates powerful, lasting impact. Take the free Passion Test.
Your Passion - Welcome
On GeniusU we are partnering with the world renowned experts and New York Times bestselling authors of the book "The Passion Test", Janet Bray Attwood and Chris Attwood.
Microdegree Outcomes
You will get clarity on what you are most passionate about in your life
You will discover how to align your life and goals to your passions
You will connect with others who share the same passions as you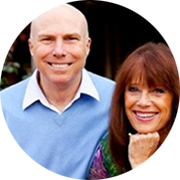 Your Microdegree Mentor
Janet Bray Attwood and Chris Attwood are NY Times bestselling authors of 'The Passion Test', which has become the #1 tool used worldwide to discover passion and connect with purpose, involving 1,200 Passion Test facilitators in 50 countries.
They've shared the stage with people like His Holiness the Dalai Lama, Sir Richard Branson, Nobel Laureate F.W. deKlerk, Tony Hsieh, the late Stephen Covey, Jack Canfield and others.
In their newest book, Janet and Chris provide an easy-to-understand guide to discovering the unique design of your life and tools for getting aligned with that design so your life flows with ease.
Other books: 'The Effortless Path to Discovering Your Life Purpose and Your Hidden Riches' - 'Unleashing the Power of Ritual to Create a Life of Meaning and Purpose'. Their programs are based on the principle of "Inspiring Transformation Through Love".
Popular Reviews
The Passion Test and More
This was really enlightening and very surprising for me as the 5 passions were unexpected and even the order was different. I learned a lot about myself. Thank you for the starting point on my learning journey.
Tempo
Passion Test review
It was great to have completed passion test so I know where my passions lei
Blaze
Passion test
Very valuable insights and learnings. I have a lot of improvements to do to value myself and do what Im passionate about because Im worth it and will make life more fun.
Dynamo
Wonderful
I loved this micro degree, thank you for putting it together. I learned a lot.
Blaze
Passion
Beautiful reminder. I really liked the part of no tension, in order for the universe to do it's magic, we have to let go and be open to the outcome
Blaze
Love it!
Living your passion is vitally important. Contrary to what society has taught us
Blaze
The Passion Test
Great Exercise to get in touch with your self and see where are you at in relation to your dreams.... for me I realised how hard has been to just dream about creating what I want in life. it was alway so tightly locked to the "right outcome" that I never used to let myself set intentions that are built around my dreams. Thanks for the test is really good
Nice
I liked the way it helps to think about passions, very simple and useful tool.
Tempo
Your Purpose
Everyone should take this course to help solidify your purpose. Even if you already know what your purpose is, it helps you understand why you do hte thing you do.
Dynamo
Amazing how your passions can change over time!
Interesting to re-take the passion test and see how my passions have shifted within a few years. Probably shifted for many of us after the pandemic!