Genius Group Ltd.
Singapore
We are a world leading entrepreneur education group with 1.4m students in 201 countries & a planned NYSE Listing in 2021
Top Purpose: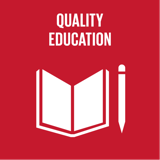 Quality Education
About:
We are a world leading entrepreneur education group, with 1.4 million students in 201 countries, ranging from ages 3 to 80, and an annual growth rate of over 50% year-on-year since we launched in 2015. 
Our mission is to disrupt the current education model with a curriculum that teaches students how to 'create a job' as an entrepreneur instead of how to 'get a job' as an employee. Our entrepreneur education system is being delivered virtually and in-person, locally and globally via our Singapore edtech platform company, GeniusU, through microschools, camps, schools, colleges, universities and corporate training. Our 2,000+ faculty members, 7,000+ partners  and community is global with an average of 50,000 new community members and 4,000 new students joining our GeniusU platform each week in 2020. Our courses are delivered online and in-person in multiple languages, including English, Chinese, Japanese, Thai, Spanish, French, Polish and Czech. City leaders, who are our partners that host events each month in their city and use all our tools to attract new students, conduct our events (physically or virtually) in over 40 cities and over 2,000 faculty members operate their microschools using our online tools.
We have built our global group of entrepreneur education companies through organic growth and acquisitions, adding value to each company through GeniusU, which we are developing to provide artificial intelligence ("AI")-driven personal recommendations and guidance for each student. Our public limited holding company in Singapore, Genius Group Limited, grew to $26.6 million in revenues in 2019 and total group net income of $4.9 million. Our growth has been internally funded from our entrepreneur community to date through over 500 shareholders who have collectively invested approximately $10 million in Genius Group over the years.
Opportunities
Venue Partner (Community Leader level 3)
Curriculum Partner/Translation Partner (Level 3)
Company Reviews
Recently Added