There's no denying it: chatGPT took the content creation world by storm. As more people started accepting the GPT framework as the next big thing in content creation, we started seeing dozens of tools using it to create AI writers of their own.
One such tool that helps you create engaging high-quality content at lightning speed (figuratively) is Writesonic. In this detailed Writesonic review, we will explore what Writesonic is, who developed it, its target audience and key features. We will also compare Writesonic with some of its famous competitors like Jasper and CopyAI while considering its pros and cons.
What is Writesonic?
Writesonic is a powerful AI-based writing tool that assists content creators, marketers, and businesses in generating great written content quickly and efficiently. Utilizing advanced Natural Language Processing (NLP) algorithms, this tool aims to enhance the content writing process by providing suggestions, generating content, and optimizing text for various writeups such as blog posts, ads, social media content, and more.
Writesonic is marketed as one of the most holistic AI marketing tools as it not only helps create written content but also generates AI images from text inputs. Additionally, its ChatSonic tool acts as a super-charged version of ChatGPT for content creators, setting it apart from all other AI writers on the market. Writesonic has separate templates for both short-form and long-form content that can help you create content for blogs, emails, social media, landing pages, product pages and more.
There's no denying that this tool offers some features that no other AI tool currently does on the market. And in this article, we'll try to explore whether that makes it worth the price.
Who Developed Writesonic?
This app was developed by Samanyou Garg, who is the founder and CEO at Writesonic. In 2019, he graduated with a Computer Science degree from the University of Manchester.
In October 2020, Samanyou laid the foundations of Writesonic by creating a landing page generator based on GPT-3.
This tool caught the attention of many, which skyrocketed it to fame in the industry. Samanyou took this as proof of concept and began developing the famous Blog Writer tool on Writesonic which was launched in January 2021.
Recently, Samanyou has been inducted into the Forbes 30 under 30 in the Asia category. At the time of writing, Writesonic has seen big growth and has been backed by Y Combinator, an AI acceleration program. Additionally, they have received over $2.6M in total funding to date.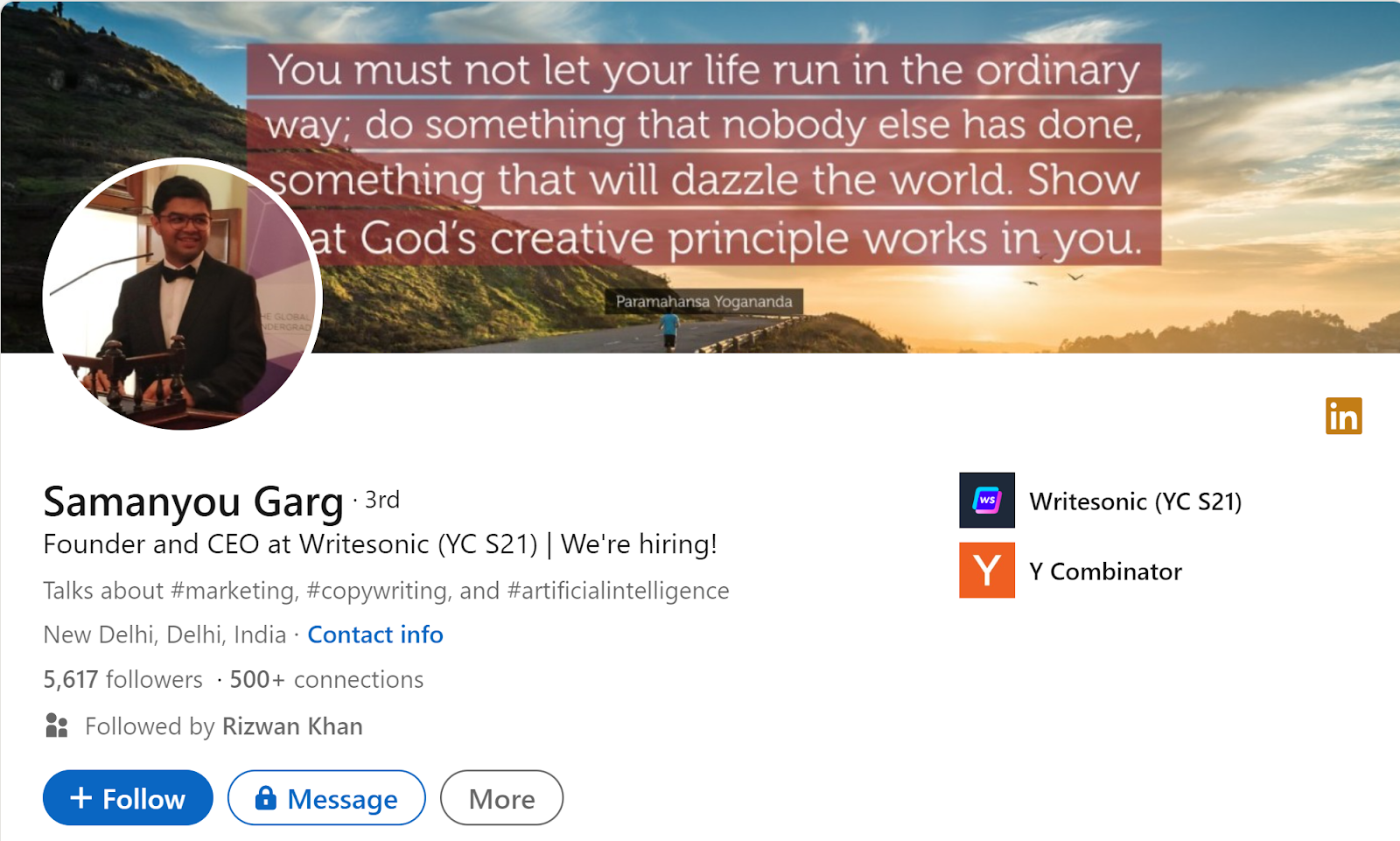 Who is Writesonic Aimed at?
Writesonic is for anyone who wants to write short-form or long-form content for the web. This tool helps generate SEO-optimized content quickly, which makes it great for freelance writers. Additionally, it can be used by content agencies for streamlining the AI content creation process and ensuring that they maintain high content quality standards.
Writesonic is also aimed at marketers and small businesses due to the plethora of copywriting tools that it offers. In particular, their Facebook Ads Writer is a tool that marketers love.
This tool also has a number of e-commerce templates for writing product descriptions and headlines.
In short, Writesonic can be used by anyone who wishes to create high-quality SEO-optimized content for the web, including writers, marketers, agencies, e-commerce, and small businesses.
Read the rest of this comprehensive AI Toll review here: AI TOOLS TRIBE
Leave a Reply