Edify Business
Cambridge, UK
We help organisations grow and become Future Fit through Impact Innovation
Top Purpose: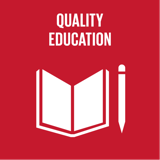 Quality Education
About:
Edify Business is an Impact Innovation focused education business that nurtures organisations to become future-fit and generate freedom, wealth and wellbeing for everyone.
We work with Purpose-led leaders with a strong desire to grow an impactful, sustainable business that gives equal consideration to People, Performance, Planet and Profit.
And we guide them on their journey using a well-proven, modular system to support them and their leadership team in realising the level of worth they would like to generate.
We believe everyone is brilliant at something, some of the time.
We know that as most people and Enterprises don't understand their full potential - they will find it hard to achieve it.
We aim to support people in raising their awareness about their and their enterprises 'Worth', Through: 
Appreciating their Wellbeing - Driven by their Intent and measured by Happiness.   And their Wealth - Driven by their Vision and measured by Income. 
Company Reviews
Recently Added
Harry has been helping me in my endeavours as a start-up entrepreneur for some time now, and I could not have got the depth of understanding of how to prepare myself and the company without him. I'm not ready to move out of the oasis!