Wealth Migrate
United Kingdom
Wealth Migrate enables like-minded Real Estate investors create a global Real Estate portfolio by investing in global Commercial Real Estate on one Platform.
Top Purpose: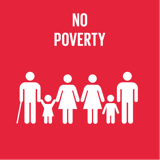 No Poverty
About:
Wealth Migrate, Your Trusted Global Real Estate Marketplace, is leading The Wealth Movement in globally creating wealth for all through real estate and technology!  http://www.wealthmigrate.com
Basically, it is tomorrow's simple answer to making sophisticated investments in local and global real estate, residential and commercial, with like-minded real estate investors and to create global wealth, today.
Wealth Migrate is a KPMG Global Top 50 Fintech company, top-10, global real estate investment platform, bringing the tools and transparency to enable emerging market investors access to high yield, institutional quality, developed market real estate at scale. Our FinTech enabled platform makes direct investment accessible, safe and affordable for global retail investors seeking US dollar, Aus dollar or Pound based income. By leveraging big data technology, robo-advisory based on goals, block chain record-keeping, global boots on the ground origination and the social power of collective buying—we bring trust, transparency and access to an opaque and complex process. With MEMBERS from 133 countries and INVESTORS from 62 countries, facilitating over $565m USD in property deals, we truly are the leading global real estate marketplace.
Wealth Migrate will do this through the power of the crowd, technology and Collaborative Social InvestingTM, by helping investors have access to invest and partner with the safest and best institutional grade opportunities locally or internationally, while letting real estate providers have access to the depth and quality of global investors, thus creating global wealth for all! 
We provide a global, self-service, Fintech real estate solution, which takes advantage of local real estate markets, through best-of-breed partners, efficiency, a global IT platform and collective buying power.
Wealth Migrate's foundations are built firmly on three core values, trust, transparency and most importantly making sure that everyone's interests are aligned. It is a blend of nature's laws and technology which revolves around partnerships, as nature teaches us - when birds fly in a flock, versus flying on their own, a bird in a flock can fly 70% further than a bird on their own.
What differentiates Wealth Migrate is its team's experience, track record and results in International Real Estate. Along with 19 published books (including New York Times bestsellers by Dr Dolf de Roos), clients have trusted us to invest $1.34Billion in international real estate, on 5 continents over 3 decades. 
We focus to remain locally legal yet act globally. 
By leading The Wealth Movement, our purpose is to empower an extra billion people on this planet by 2020 through access to real estate and the wealth effect.
http://www.wealthmigrate.com 
49% of the world's wealth is held in real estate, for as long as man has accumulated wealth, land and real estate have been the number one vehicle of growing and preserving wealth. However out of 7 billion people, only 12,9% of people have access to real estate. The greatest barrier to entry is experience, geography and the funding gap. Scott Picken says, "Our mission in driving the Wealth Movement, is to at least double this to 25% globally by 2020 and give access to everyone who is like-minded and understands the power of the crowd working together, just like in nature. As when birds fly in a flock, versus flying on their own, a bird in a flock can fly 70% future than a bird on their own.
http://www.wealthmovement.com
Our Products (2)
World class Certifications and Microschools for entrepreneurs at every level.
Company Reviews
Recently Added