Geodomein
Netherlands
Geodomein is an international training company. Geodomein focuses on realizing change by changing systems within teams & organisations
Top Purpose: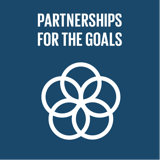 Partnerships for the Goals
About:
Geodomein focuses on changing systems of organisations from within by guiding key players in teams with strategic transformational programs. Since 2013, Geodomein has worked with senior professionals and their teams in the Netherlands, Belgium and the UK. 
Company Reviews
Recently Added
I learned for the first time about Geodomein, when I met Roosmarijn at Roger Hamilton's European Entrepreneurs Summit in London 2018.
Roosmarijn's natural way of storytelling at the conference uncovered for me the essence and importance of the meaning and purpose of Geodomein and piqued my curiosity.
Geodomein's web presence lifts the veil and invites you to make your eyes twinkle again, helping you and your team find your route to deliver a positive impact in the world and companies to find their own map in their mission and culture. Roosmarijn and her team skillfully crafted - taking lessons from nature into account - a landscape of Creative Learning Methods.
I had the privilege to attend an introductory session whereby you can see the Geodomein team in action and meet other sparkling eyes who have an interest in discovering what their talent is and what it takes to make you feel comfortable in your own skin.
During this session Roosmarijn grasped from the very first moment the attention by sharing her personal story. She focuses on specific questions and through applying her own experience, providing intriguing examples and engaging the audience it is guaranteed a super inspiring session. She has a warm natural talent to inspire people and get you excited in wanting to know and learn more.
We also had the opportunity to dive a bit deeper into the content and approach of the new annual programs.
Diligent timekeeping by Marlon was of the essence to ensure there is an opportunity for the audience to ask questions throughout the session. And one of golden rules to make this a success is excellent preparation and being passionate about what you do and stand for.
This taster is for me definitely a sparkle to something bigger for myself and I would anyone who is interested to learn more about these creative learning methods encourage to get in touch with Roosmarijn and discover your twinkle again.
I've been working for Geodomein for the past eighteen months. It started as an internship, but now I also work there. It is a company where it is also about the personal aspect of both the clients and the Geodomein team. I can't be more grateful enough that I can work in this team with lovely, hard-working and inquisitive people. Geodomein aims to help as many people, companies and teams as possible to find their flow.
Geodomein is a professional coaching and trainings company. It has the personal touch which makes you as client feeling welcome and understood. An example for lots of companies.