SONiNATE Productions
Berlin, Germany
SONiNATE Productions offers the most personalized audio branding service exclusively for ethical & conscious brands.
Top Purpose: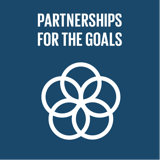 Partnerships for the Goals
About:
When taking the step of leading a company into Business 5.0, one important aspect is often overlooked or completely underestimated. The other core part that makes us human, besides our mind, is our emotions.
If we want to see our business and our clients in a more holistic way and to be real human it is crucial to integrate the emotional aspect a well.

• How emotional are my brand and my business?
• Does my brand appearance really reflect my uniqueness in alignment with who I truly am?
• Does my brand have the ability to be recalled and create connection even on a subconscious level?

Hi, Im Stefan, musical business emotionalizer & re-humanizer. I'm the founder and head & soul of SONiNATE Productions where I'm offering the most personalized unique audio branding exclusively for ethical & conscious brands.
I want to support exactly those brands that really help to make this world a better place. I help brands to stand out by emotionalizing & re-humanizing them and turning them into timeless favorite songs & "earworms".

In order to bring audio branding to a new way more personal and emotional level I've invented the Emotional Acoustic Corporate Identity (EACI) and developed the UCE method.

My main purpose is to touch people on a deeper level with my music and thereby deepen their connection to themselves and others.
While the "bad" companies spend millions on their audio branding as they are very aware of the power of this secret weapon, many of the "good" conscious companies have not even considered the conscious use of music in a business context or at best use generic music.
SONiNATE Productions wants to change this.
Although everyone probably knows about the power of music, its extent is still hugely underestimated.
Our hearing occupies a special position among our senses, which makes audio branding an enormously powerful tool for any brand.
If you want to learn more about the enormous power of music and audio branding and what SONiNATE Productions could do specifically for you, please reach out to me to book a FREE consultiong call.
Company Reviews
Recently Added