Arts Dynamics
Stockholm, Sweden
Your personal path to Creative Entrepreneurial Flow; Music, Arts, Culture and Entertainment
Top Purpose: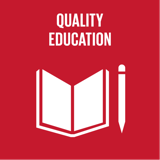 Quality Education
About:
Arts Dynamics provides guidance, support and a pathway for purpose based, creative entrepreneurs and organisations within music, arts, culture and entertainment to get into flow both on and off stage.

The founder, Sofie Marin, has more than 20+ years experience in various leadership positions within music and the performing arts as a producer, tour manager, promoter, head of production and founder/CEO of London based production company From Sweden Productions. She has worked with symphony orchestras, choruses, music festivals, opera, theatre, musicals and dance as well as music and entertainment at high-end corporate and diplomatic events. Clients have performed at the BBC Proms, London´s West End, Broadway as well as the Royal Palace in Stockholm. As an in-house producer Sofie also has vast experience from the Royal Dramatic Theatre, The Royal Swedish Opera, Malmö Opera House, Drottningholm Court Theatre in Sweden to mention a few.

Established arts organisations have a structure, systems and processes in place for the artistic process to flourish. Creative entrepreneurs however often fall outside the systems and are struggling to get funding and financial support. As an entrepreneur herself, Sofie draws upon her background in business administration, business development, event promotion and leadership to empower creatives with the guidance and support needed to thrive both on and off stage.

The vision for Arts Dynamics was born in Bali during a one week entrepreneur mastermind retreat in 2013 at Vision Villas with Roger Hamilton as mentor, and has since been used in Sweden, UK and internationally to support creatives; both on an individual level but also teams within organisations.

In May 2020 Arts Dynamics Entrepreneur Mastermind, a monthly membership community, opened up its doors to provide ongoing support to creatives with a special focus on digital strategies, branding and promotion to develop new income streams.
 
Company Reviews
Recently Added
Sofie is an amazing Artsprenuer mentor. With her huge array of contacts in the arts she is able to inspire and hold me to account with her weekly schedules of guests and activities. Whatever level you are at, I'm sure you'll pick up something new with her mentorship, thank you Sophie for your inspiration and practical steps. Recommended!
The work Sofie is doing with Arts Dynamics is really amazing - it is unfolding all the right tools for artists to develope their arts business. And it is based on really solid knowledge from Sofies side. Her Mastermind is a pure joy to be in - great people gathering here.