GeniusU
Singapore
The World's No.1 Entrepreneur Education Network
Top Purpose: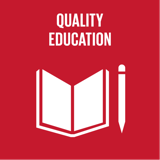 Quality Education
About:
The world's number one Entrepreneur Education Network

GeniusU is a web and mobile platform which already connects over 850,000+ entrepreneurs to the right network, knowledge and opportunities based on their personal values, vision, passions, talents, and purpose.
GeniusU's A.I. Genies, give you personalised recommendations on who to meet, how to upskill, where to go and what to do based on your stage of business growth, global location and other personalised information.
Opportunities
Giving Free Music Tech Courses To Schools In Developing Countires
Giving Free Music Tech Courses To Schools In Developing Countires